3tothefloor
03.12.2021 - 11.12.2021
westwerk / admiralitätstrasse 74, 20459 hamburg
westwerk.org
---
öffnungszeiten / opening times
.....2 G Regel / 2 G Rule...:
freitag______03.12. 17:00 - __:__ (vernisage)
samstag______04.12. 13:00 - 18:00
mittwoch_____08.12. 16:00 - 18:00
donnerstag___09.12. 16:00 - 20:00
freitag______10.12. 16:00 - 20:00
samstag______11.12. 17:00 - __:__ (finnisage)

---
Paul Jones, Sebastian Zarius und Jens Foerster zeigen Bilder, Skulpturen und Projektionen im Westwerk. Diese sind nicht nach einem Motto für eine Ausstellung gefertigt, sondern die individuellen Ergebnisse der jeweils eigenen Atelierarbeit der 3 Künstler, die sich lange kennen und innerhalb ihrer Künstlerfreundschaft auch immer wieder Inspiration des Anderen waren und sind. Im Sinne von '3 to the floor' soll diese Ateliersituation des Einzelnen auf die Gruppe erweitert werden. Nach langer Zeit ohne Kontakt bringt die Ausstellung die Freunde, die in London, Berlin und Hamburg leben, wieder zusammen. In der Installation der Arbeiten im Westwerk treffen sich dann nicht nur die Künstler, sondern auch deren Werke.
♪♪♪
Paul Jones, Sebastian Zarius and Jens Foerster are showing pictures, sculptures and projections in the Westwerk. These are not made according to a motto for an exhibition, but are the individual results of the 3 artists' own studio work in each case, who have known each other for a long time and have always been and still are the inspiration of the other within their artist friendship. in the spirit of '3 to the floor', this studio situation of the individual is to be extended to the group. After a long period without contact, the exhibition brings the friends, who live in London, Berlin and Hamburg, together again. In the installation of the works in the Westwerk, not only the artists but also their works will then meet.
---
Paul Jones, (lebt und arbeitet in London) fährt fort, die Eigenart der Materialien und die Möglichkeit ihrer Form zu erforschen. In der Ausstellung wird er Holz in seinen verschieden Zuständen und Nuancen für seine Skulpturen verwenden. Er lässt sich von der Natur inspirieren, aber die Arbeit gibt nicht die Natur wieder, sondern hat eine eigene Form und verläuft parallel zu ihr. Grosse Kohle-Tuschezeichnungen und computergestützte 3D-Zeichnungen helfen bei der Suche nach Möglichkeiten, sind aber nicht endgültig und helfen beim Prozess der Erforschung und Formwerdung.
♪
Paul Jones, (lives / London, born British) continues to explore the nature of materials and the possibility of their form. He takes his inspiration from nature, the work does not reproduce nature, but has its own form and runs parallel to it. Large charcoal ink drawings and computer-aided 3D drawings search for possibilities, but are not final and help in the process of exploration and creation of form.

pauljones
---
Sebastian Zarius, (lebt und arbeitet in Berlin), nutzt für seine Arbeit Techniken und Material, die Teil des alltäglichen Lebens sind. Zollstöcke, als faltbare Messinstrumente eingesetzt wie eine Weidenrute in einer Konstruktion, spiegeln die Fragilität einer (fast) erforschten Welt und setzen dieses Wissen in Relation zu einer ursprünglichen Form. Eine aus Kunststoffkleinteilen bestehende, an eine Carrera-Bahn erinnernde Skulptur mit Doppellooping zeigt die Bewegung im Stillstand. Aus Plastiktüten genommene Ausschnitte werden durch Belichtung vergössert und wie zum Leben erweckt und erscheinen ihrem Ursprung gegenüber erhaben, in die Kunst gerückt. 64 dieser Fotogramme bilden den 'Kleinen Atlas', die aktuelle Serie aus 576 Bildern hat den Titel 'Plastic Memory'. Neue Collagen der Reihe 'Territorium Transparente' werden auch in der Ausstellung zu sehen sein.
♪
Sebastian Zarius, (lives and works in Berlin), uses techniques and materials for his work that are part of everyday life. Folding rules are used like a willow rod in a construction and reflect the fragility of an (almost) explored world and relate this knowledge to an original form. A sculpture made of small plastic parts reminiscent of a Carrera track with double looping shows the movement at a standstill. Cuttings taken from plastic bags are enlarged by exposure and seem to be brought to life and appear sublime compared to their origins, moved into art. 64 of these photograms form the 'Small Atlas', the current series of 576 images is entitled 'Plastic Memory'. His latest collages called 'Territorium Transparente' will also be seen.

sebastianzarius
---
Jens Foerster, (lebt & arbeitet in Hamburg), ... an Objekten aus Holz und anderen Materialien. Die aktuelle Holzschnitt-Edition wird ein Albumcover für ein auditives Compilation-Projekt mit dem Titel 'Songs from no woods'.
♪
Jens Foerster, (lives/works in Hamburg), works on objects made out of wood and other materials. His current woodcut edition titled 'songs from no woods' is also the album cover and insperation for an auditory compilation project.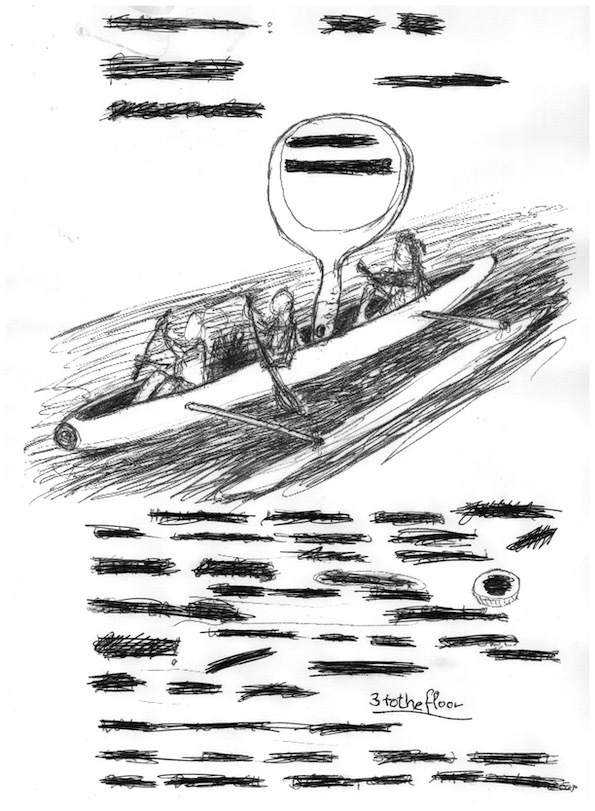 former hamburg ... 88, sternwarte bergedorf, südbalkon& ... based exhibitions
paul: at 88 / separated research / theblackseries sebastian: at 88 / don't talk / don't talk (2. doc. attempt)
---